Why Buy A Certified Pre-Owned Kia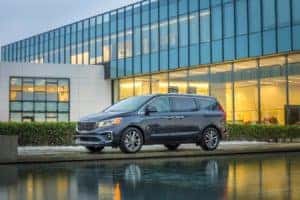 When you purchase a used vehicle, we want you to feel confident in your choice. That's why every Certified Pre-Owned Kia comes standard with best-in-class warranties, 24/7 roadside assistance, and a variety of other benefits. Most importantly, our Certified Pre-Owned (CPO) vehicles undergo an especially thorough vetting process to ensure only the most reliable cars earn this stamp of approval.
What is Certified Pre-Owned? 
Certified Pre-Owned is a certification indicating that a vehicle has passed a comprehensive inspection, has low mileage, a clean title, and is under a certain age. 
How are Kias certified?
To start, eligible vehicles must be five years or newer and have under 60,000 miles on the odometer. From there, each Kia is thoroughly inspected across 165 different areas. If any parts do not meet our standards, they are then replaced with a genuine Kia Original Equipment Manufacturer (OEM) part. Lastly, we review the vehicle's history report to guarantee the utmost quality. 
How is Certified Pre-Owned different from pre-owned?  
While all our used vehicles are inspected for quality assurance, our CPOs undergo an especially meticulous screening process. Additionally, our CPO Kias come with numerous benefits not found with a typical used car purchase. For example, they include a limited powertrain warranty, a towing and travel reimbursement package, and more. 
What benefits are included with a Certified Pre-Owned Kia? 
There are many benefits that come with purchasing a Certified Pre-Owned Kia, starting with our unbeatable warranty coverage. Our vehicles come standard with a 10-year/100,000 Mile Limited Powertrain Warranty that covers repairs needed as a result of mechanical breakdown on over 600 parts. 
Additionally, we also offer 1-Year/12,000 Mile Comprehensive Platinum Coverage for any additional parts that are traditionally not covered in powertrain warranties. This includes things like brake pads, airbags, door handles, glass, etc. Our factory-trained technicians do their best to notice any defects before resale, but in the event something comes up, we've got you covered. 
To summarize, here are the included benefits:
10-Year/100,000 Mile Limited Powertrain Warranty

1-Year/12,000 Mile Comprehensive Platinum Coverage

Towing/Rental/Travel Reimbursement Package

24/7 Emergency Roadside Assistance

Carfax Vehicle History Report

165-Point Inspection

Free SiriusXM 90-Day Subscription
What areas are included in the 165-point inspection?
Our technicians check everything from brakes to electrical to the engine to make sure each vehicle meets our standards. Some of the parts inspected include; engine, transmission, emissions, fuel, brakes, electrical, steering, cooling, exhaust, and heater. Our technicians also take the vehicle on a test drive, as well as inspect the appearance, body, and structure of the vehicle. 
Why is a CarFax Vehicle History Report important? 
The CarFax Vehicle History Report compiles data from 112,000 different sources to give an accurate picture of your vehicle's history. Having this data means you can feel confident knowing where your vehicle has been registered, the number of past owners, how it's been used, and any past accidents. Vehicle history reports also help us identify any problems that may disqualify a vehicle from becoming certified. The information we look for during our inspection include:
Title history

Past accidents

Odometer fraud

Flood damage

Fire damage

Frame damage

Salvage vehicles

Branded titles
What is included in the Towing/Rental/Travel Reimbursement Package?
In the event of mechanical failure, we'll reimburse you for travel and rental expenses. Our Travel Breakdown Protection covers up to $100 per calendar day for a maximum of 5 days per occurrence when over 100 miles from home. Additionally, our Rental Car Coverage includes reimbursement of up to $35 per day for up to 10 days. Along with this, we also offer unlimited fuel delivery if your vehicle runs out of gas – up to three gallons per occurrence at no charge.
United Kia Imperial has a large selection of Certified Pre-Owned Kia vehicles ready to take home. Check our extensive inventory online or visit us in-store. If you have any additional questions, please feel free to contact us at 888-694-5045. Also, you can contact us online here.