5 Reasons Why You Should Use A Dealership Service Department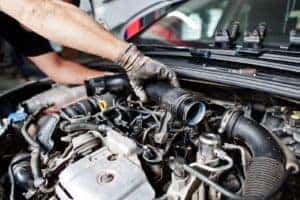 All vehicles require maintenance work at some point. To keep your car performing at its best, it is important to regularly get an oil change, tire rotation, and inspection. These services can greatly increase the longevity of your car's lifespan, which is why it's important to find a trusted car service provider. 
While independent repair shops can be a quick solution, the smartest option is to bring your vehicle to a dealership service department. Dealerships have the experience, expertise, and equipment to handle all types of automotive work. Not only is this the most efficient and reliable choice, but it can also save you money. 
There are many benefits to getting your car serviced at a dealership including:
Manufacturer Trained Technicians
Dealerships employ factory-trained technicians who have earned special certifications for your car's brand. This means they are familiar with the make and model of your vehicle. On top of this, they have continuous training to keep them performing at their most optimal. Unlike at an independent shop, dealership technicians work on vehicles like yours daily. Non-dealership service teams may only see vehicles like yours once a month. 
Specialized training means that maintenance and repair work is done to your car's specifications. This is important because a small error can cause costly damage to your vehicle. For example, mistakes like too much oil, too little oil, or the wrong type of oil, can all greatly impact your car's powertrain. With dealership service departments, the staff is trained to keep your vehicle running the way its manufacturers intended. 
Lastly, dealership mechanics are provided frequent, recurring training to help assist with new automotive developments. This extensive training means repairs can be diagnosed and completed quickly and efficiently.
Warranty Coverage
Another benefit to dealership service departments is the warranty protection. At United Kia Imperial, both our new and Certified Pre-Owned Kia vehicles are covered under warranty. Not only this but they are considered the most comprehensive plans in the automotive industry. 
For example, our Certified Pre-Owned Kias come with two warranties. The first is a 10-year/100,000 Mile Limited Powertrain Warranty that covers repairs needed as a result of mechanical breakdown on over 600 parts. On top of this, we also offer 1-Year/12,000 Mile Comprehensive Platinum coverage for any additional parts that are traditionally not covered in powertrain warranties. This includes things like brake pads, airbags, door handles, glass, etc. Our factory-trained technicians do their best to notice any defects before resale, but in the event something comes up, we've got you covered. 
For our new Kia models, we offer a warranty program that consists of: 
10-year/100,000 Mile Limited Powertrain Warranty

5-year/60,000 Mile Limited Basic Warranty

5-year/100,000 Mile Limited Anti-Perforation Warranty

5-year/60,000 Mile Roadside Assistance Plan
Genuine Kia Original Equipment Manufacturer (OEM) Parts
At our dealership, your vehicle will receive genuine Kia OEM parts. Factory OEM parts guarantee the best quality, fit, and performance for your car. This is because it's the same parts that came with your vehicle off the assembly line. Additionally, if you're thinking about selling your vehicle down the road, OEM parts can increase the resale value. 
At independent shops, they typically use aftermarket parts. These are replicas of OEM parts built by third-party companies. While they are more economical, they also lack in terms of quality and fit. 
Additionally, another benefit to dealership service departments is that they are fully stocked with vehicle parts. Independent shops may not have the equipment needed for your repair. Going to a dealership means getting your car serviced faster because you're not waiting on parts to arrive in the mail. 
Coupons & Service Offers
It's a common myth that dealership service departments are more expensive than independent shops. Most dealerships offer competitive rates, discounts, and monthly service offers to help save drivers money. At United Kia Imperial, we firmly believe that budget shouldn't compromise excellent service. That's why our finance team will work with you endlessly to get you the best possible deal, lease, or loan. 
Quick Service & Convenience
Lastly, going to a dealership is convenient and efficient. At United Kia Imperial, we have a spacious waiting room with free WiFi and comfortable seating. Our team will work hard to get your vehicle fixed and back on the road ASAP. But don't worry, if it requires more time, we also offer low-cost rental cars. 
Whether you're needing routine work or a repair, we're happy to help. You can either schedule an appointment online or call us at 888-694-5045 to book.