Go Electric With The All-New 2022 Kia EV6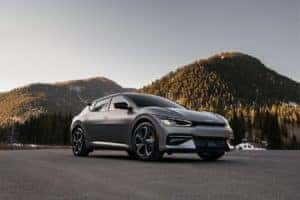 The all-new 2022 Kia EV6 marks the brand's first-ever battery electric vehicle (BEV). The crossover signals the U.S. launch of Kia's "Plan S" strategy that promises 11 all-new electric models within the next 5 years.  
Starting with the EV6, the fresh lineup will have a naming technique similar to that of iPhones. The "EV" will be followed by a number that indicates the car's position in the lineup, i.e., the EV6. Kia plans that by 2030, electric vehicles (EV), hybrids, and plug-in hybrids will make up 40% of global sales. 
Coming out the gate strong, the EV6 is sure to impress drivers with its crossover functionality, high-tech features, and advanced driver systems. The first EV6 models are expected to go on sale in early 2022, with the GT grade arriving in late 2022. 
'Opposites United' Design
Kia's new BEV is a global collaboration effort designed from the studios of Seoul, Frankfurt, and Irvine, California. It was inspired by a new design philosophy they call "Opposites United," which pulls elements from the contrasts found in nature and everyday life. 
The bold exterior is framed by a "Digital Tiger" grille and a hefty 114.2-inch wheelbase, the same as the Kia Telluride. Compared to other vehicles, the EV6 has a similar width to a Ford Mustang Mach E and the wheelbase and ground clearance of a Tesla Model Y. 
The EV6 is more than a pretty car, though; it also performs as good as it looks. Developed using exclusive E-GMP architecture, the 2022 EV6 utilizes ultra-high-strength steel that provides a lighter and stronger structure. This also allows for better handling and an interior volume similar to many mid-size SUVs. 
The E-GMP will serve as a foundation for Kia's new electric era. Highlights from this include AWD capability with front electric motors, five-link rear suspension, integrated drive axle (IDA) to enhance ride handling, and a long wheelbase with short overhangs for maximum cargo space. Finishing touches like flush door handles, a high rear deck, and a huge sunroof add to the vehicle's sleek, futuristic appearance. 
The 2022 Kia EV6 First Edition will be available in three unique color combinations. The first is Glacier with dark green seats, followed by Urban Yellow with black seats, and lastly, Steel Gray Matte with black seats. These exclusive colors will highlight the limited production volume of the First Edition.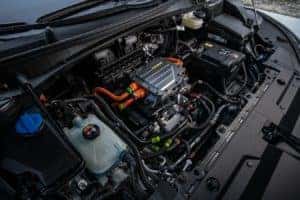 EV6 Charging, Range, Powertrain
The EV6 is run by an energy-dense battery pack available in two sizes: 58.0 kWh and 77.4 kWh. With the larger size, drivers can expect a 265-mile driving range. Additionally, the crossover offers up to 576 horsepower and an extended all-electric range (AER) up to a targeted 300 miles across multiple configurations. 
For those looking to have it all, there is one configuration that allows for zero-to-60 mph performance in less than 3.5 seconds. On top of this, the advanced battery system enables ultra-fast charging. It is the world's first patented multi-charging system supporting 400v and 800v DC charging. Because of this, drivers can add 70 miles in less than 5 minutes. Furthermore, 210-miles can be added in under 18 minutes. This GT trim will go on sale in late 2022. 
Lastly, the Innovative Vehicle-to-Load (V2L) functionality makes the EV6 able to support everything from computers to camping and tailgating. Enjoy 1900 watts of power to use on any electrical devices, tools, or recreational equipment.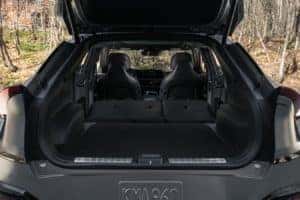 Spacious, Sustainable Cabin
The 2022 Kia EV6 takes sustainability to a whole new level. Along with the zero tailpipe emissions, the crossover uses 100% vegan leather and an extensive amount of recycled plastics throughout the interior. In addition, the car features 100% LED lighting inside and out. Inspired by nature, it only makes sense that the vehicle is also eco-friendly.
Along with being sustainable, the EV6 is also just as functional. Its flat floor design allows for a spacious cabin, which Kia further maximized through clever design elements. For example, the slim front seats use "giga-steel" to add rear-seat legroom.  Along with this, the EV6 has 60/40 split-folding seating, adding 53.5 cubic feet of cargo space when folded down. If that's not enough, the EV6 also has additional storage space in the front truck.  Accessing the back is also easier than ever with hands-free Smart Power Tailgate technology.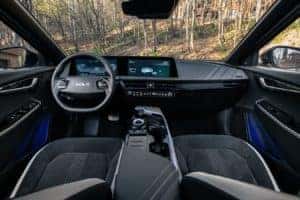 High-Tech Features
The EV6 marks a transformative and elevated era in Kia electrification. The crossover features an array of technology features, including:
Panoramic dual 12-inch display screens

Blue light-filtered screens to reduce eye strain

Bluetooth functionality

Wireless smartphone charging

14 speaker premium audio system that adjusts the volume to vehicle speed change

Wi-fi hotspots

Kia Pay, an in-car commerce experience that allows users to purchase from popular merchants

Stolen Vehicle Recovery

Smartwatch accessibility

Enhanced voice assist features

Smart Speaker Integration with Alexa or Google Assistance

Connected routing for real-time and predicted traffic information

911 Connect and Roadside Assistance to share vehicle's information
Highest Standard of Safety Features
The 2022 Kia EV6 also offers a large arsenal of safety and convenience features, including: 
Surround View Monitor (SVM) provides a 360-degree perspective around the car

Parking Collision-Avoidance Assist-Reverse (PCA-R) detects objects around the vehicle and will emergency brake if there is a risk of collision

Remote Smart Parking Assist (RSPA) allows remote parking or exiting a parking spot with the driver operating the EV6 from outside the vehicle 

Blind Spot Avoidance Assist

Driver Attention Warning

Forward and Rear Collision-Avoidance Assist

High Beam Assist

Navigation Based Smart Cruise Control-Curve
When will the Kia EV6 go on sale?
Most EV6 models will go on sale in early 2022, with the high-performance GT coming toward the end of 2022.
Stay up-to-date on the latest Kia news by following United Kia Imperial on Facebook and Instagram. For any additional questions, please feel free to contact us online.