Electric Vehicles: FAQs, Charging, Costs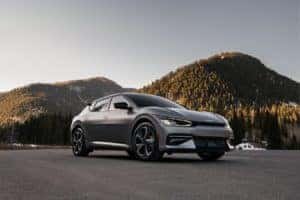 The car industry is going electric, and Kia is at the forefront of this movement. The brand's transformative Plan S promises 11 all-new electric models within the next 5 years. In addition, Kia aims to reach 25% of its sales from eco-friendly vehicles by 2025. 
As the market changes, more drivers are making the shift to hybrid and electric vehicles (EV) each year. If you're looking to go electric, here's what you need to know about how they work, charging, costs, and more. 
How do electric vehicles work?
Generally speaking, EVs are categorized into three types; battery electric vehicles (BEV), hybrid electric vehicles (HEV), and plug-in hybrid electric vehicles (PHEV). Each of these works slightly differently, but all use electricity either exclusively or to help assist the gas-powered engine.
BEVs, more commonly referred to as just EVs, are all-electric. As the name implies, electricity is its only fuel source. These vehicles use an electric motor and battery pack rather than a traditional internal combustion engine and gas tank. Because of this, they do not emit any harmful fumes. Compared to gas-powered vehicles, BEVs have a significantly reduced carbon footprint. 
PHEVs use both gasoline and electricity. Since they are a combination of the two, they are equipped with both a battery and electric motor, as well as an internal combustion engine and gas tank. Most PHEVs work by running exclusively on electricity until the battery is empty. Typically, PHEVs have an all-electric driving range of 30 miles. After that, the gas-powered engine will kick in. These vehicles are an ideal balance between eco-friendly handling and go-anywhere flexibility. Most drivers will be able to navigate their daily commutes on electric power alone, while the gas engine comes in handy for longer road trips. As the name suggests, plug-in hybrids can be both plugged in and fueled at a gas station. 
Like PHEVs, hybrids also use gasoline and electricity; however, they do not have an all-electric driving range. Instead, the electric motor assists the gas-powered engine to create better fuel economy. Hybrid vehicles cannot be plugged in to charge the battery, instead, its charged through regenerative braking.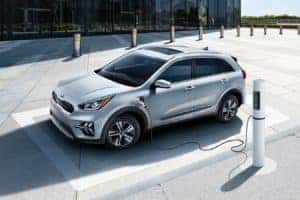 How do I charge my EV? 
Charging your electric car is simple, convenient, and cost-effective. All EVs come standard with a charging cable, meaning it can be done from almost anywhere – including your home. If you're traveling, there are over 42,000 public charging stations to use nationwide. Even more so, the current administration plans to grow this to over 500,000 within the next 8 years. 
There are three types of charging, which are categorized by how fast they work and the voltage needed. The first is Level 1, which is the slowest method. Typically, this adds about 5 miles of driving range per hour. For drivers who charge overnight or commute about 50 miles per day, this is sufficient. Level 1 charging only needs a dedicated 120 V outlet, making it accessible from nearly anywhere. 
The next is Level 2, which is faster but requires a charging station. To install at home, you'll need a dedicated 240 V outlet. Installation can vary in cost, but most states offer rebates to help lower it. On average, installing a charging station costs between $500 and $2000 with labor and materials. Additionally, it adds about 15 to 35 miles per charging hour depending on your battery size.
Lastly, DC fast charging is the quickest and most time-efficient. This adds up to 10 miles of driving range per minute, meaning for most vehicles, you can have a full charge in under half an hour. Unfortunately, not every EV is capable of this type of charging. However, Kia's newest electric model, the EV6 will take this up a notch with the world's first 800 V ultra-fast charging. It's estimated that it can add 210 miles to the battery in under 18 minutes.
How much does it cost to charge an electric vehicle? 
Electricity costs vary on location, but on average, EV drivers save over $10k in gas alone. In Nevada, the current residential electricity costs equal about 8 cents per kilowatt-hour (kWh). At this price, charging the all-new Kia EV6 with a 77.4-kWh battery (300 miles) would cost about $6.20 for a full charge. On the other hand, fueling a 25-mpg vehicle for the same mileage would cost about $48. That's over 7x the cost of an EV!
Public charging stations will vary in price. Some offer free charging, while others require payment per hour. You can use websites like PlugShare and ChargeHub to find locations near you. 
Are electric vehicles worth it? 
To put it simply, yes. There are many perks of owning an electric vehicle, including lower costs, convenient at-home charging, and it's eco-friendly. When you purchase a gas-powered vehicle, it's not just what you pay upfront. It's also the gas, routine maintenance, and occasional repair work. 
With EVs, you pay less for charging, and there's little to no regular maintenance needed. No need for oil changes, fluid flushes, etc. Even parts like brakes require less maintenance due to regenerative braking. Along with this, there are federal and state tax incentives on electric vehicles to make them even more affordable. Learn more about the $7,500 tax credit here.
Lastly, one of the biggest reasons to go electric is that electricity is a renewable resource. EVs have a significantly smaller carbon footprint over their lifetime and help create a cleaner, more sustainable environment. 
What kind of electric vehicles does Kia offer? 
Currently, Kia has 4 available hybrid and electric models. These are the Niro EV, Niro PHEV, Optima Hybrid, and the Optima PHEV. Kia's first battery-electric vehicle, the EV6 will become available in early 2022.  Along with this, the brand plans to expand its lineup to include 10 additional all-new electric vehicles within the next 5 years. 
Have any questions? We're happy to help. Contact us online or by phone.  You can also stay up-to-date on the latest Kia news by following us on Facebook and Instagram.